Today I make a very easy way to make Authentic Hyderabadi Haleem Recipe I taste all the world Haleem but I never forgive Hyderabadi Haleem In a big pot add all soak lentils fresh lamb meat and cooking process on the charcoal flame such a smoky flavor cook overnight
Next morning rich smooth and smoky flavor Authentic Hyderabadi Haleem is ready to serve with finely Julin cut ginger, green chili, and fried onion sprinkle on top with lemon.
The original recipe and taste made different Hyderabad Haleem from other types of Haleem.
Hundreds of makeshift stalls compete with regular eateries to cater to the seasonal demand. It is interesting to note that Haleem, like so many other 'Hyderabadi' dishes, is not a local invention.
Online Cooking Course
Authentic Hyderabadi Haleem Recipe
Hyderabadi Biryani is also very famous in Hyderabad, and serve in a biryani pot ( clay pot ) very authentic style.
Hyderabad has a history of the continuous influx of migrants from all over the world. Over centuries, generations of Hyderabadis have shared and never let regional or national sentiments dictate their choice of cuisine.
A lip-smacking, aromatic delicacy prepared in the Hyderabadi style is usually available during the month-long Ramadan. This delicacy is relished by hard-core meat-eaters.
Haleem is Popular for its nutritional value, as cooks gather to mash wheat healthy nutarian value protein, and carb together.
The dish is then fancy with a touch of mint and lemon. High in calories and very nutritious, it's the perfect meal to break one's fast with.
How To Make Mutton Haleem At Home?
In my haleem recipe is a quick, simple method, but delicious.
Traditionally this thick pasty stew made of pounded wheat, lentils, and mutton is served as a starter at formal dinners
First, I am soaking in water 4 types of lentils and separate soak wheat at 30 min.
After soak cooked all lentils together, and soaked wheat cooks separately.
Make a Curry For Haleem
I am using ghee because Haleem makes tastier make with ghee.
In a pot add ghee and add sliced onion fry Golden brown add mutton pieces, add ginger garlic paste saute for 5 min.
Then add all spices powder, salt, yogurt, mix well again saute 5 min then add 2 cups water, cook until meat is very soft, tender.
One's Mutton korma / Curry is ready, add all lentils mixture mix very well.
I am using a hand blender to blend my meat and lentils, make a smooth thick paste.
And cook slow flame 30 min, after that haleem mixture, combine meat and lentils cook very well.
Then add chopped coriander and mint and simmer for 15 min.
Serve with Haleem
Serve with Julian cut ginger, lemon slice, fried onions.
Print Recipe
Authentic Hyderabadi Haleem Recipe
Hyderabadi Haleem Recipe |Mutton Haleem Recipe | quick easy recipe
Ingredients
1

Cup

Broken wheat

1

Cup

Barley

1

Cup

mash ki dal/urad dal / split black gram

1

Cup

Chana Dal Bengal gram/ Chick pea gram

1

Cup

Red Lentils

2

Kg

Lamb with Bones pieces

1

tbsp

Red Chili Powder

1

tsp

Turmeric Powder

1

tbsp

Coriander Powder

1

tbsp

Cumin Powder

1

tbsp

Garam Masala Powder

2

tbsp

Ginger Garlic Paste

2

Large Onion

6

Whole Green Chili

Chopped Coriander and mint leaves

1/2

Cup

Ghee or oil

Salt to Taste
Instructions
STEP 1 )Take a pressure cooker, into it add all lentils add 7 glass water, and soak3 hours.STEP 2 )After 3 hours add whole green chili, in lentils water and pressure cookercook 1-hour medium flame. After hour lentils are soft and mashed, I am using a hand blender for blende my all lentil mixture make a smooth paste.STEP 3 )In a pressure cooker add Ghee or oil, add onion slice fry until golden brown then add all lamb meat, saute 3 min, add all spices powderand yogurt mix well, add hot water 2 cups and cook until the meat isproper soft, then remove bones and meat separate, shredded all lamb meat, and add lentils mixture, mix both lamb and lentils, chopped coriander and mint leaves mix very well again cook low flame for half an hour.Serve with fried onion, lemon slice, slice ginger,
Summary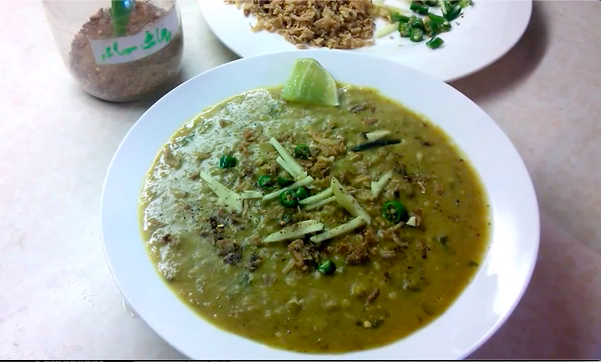 Reviewer
Review Date
Reviewed Item
Hyderabadi Haleem Recipe |Mutton Haleem
Author Rating
Recipe Name
Hyderabadi Haleem Recipe |Mutton Haleem