Today I make 4 Grilled Chicken Recipe Everyone needs a great grilled chicken recipe in their repertoire A recipe that's easy to prepare and makes flavorful juicy chicken breasts every time
If you had a problem with tough dried-out chicken in the past I m here to help with tips for making the best moist grilled chicken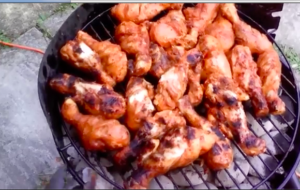 4 Grilled Chicken Recipe
One of the most important things to do to make sure your chicken never dries out, for juicy, tender, grilled chicken is to marinate your chicken before grilling.
marinating chicken for at least 2 hours.
The chicken marinade will flavor your chicken after about 2 hours in the marinade – you can grill it
after just two hours and still have tons of flavor. I am using simple ingredients to make delicious flavor full recipes made
at home.
Grilled Chicken Breast Recipe:
Traditionally, the meat wont to create Turkish kebabs is lamb. Turkish kebabs have been extended to incorporate beef chicken and fish. Using vegetables in kebabs has and most kinds of shish kebab created with eggplant, tomato, peppers
Turkish Grilled Chicken Marinade:
I am using chicken breast cut into cubes, vinegar, yogurt, red chili powder, allspice powder, black pepper powder, cumin powder, coriander powder, green chili paste,
and large onion cut into cubes, salt to taste. mix very well and keep an onion mix all Seasonings very well
Chicken Marinate Time:
Mix all Seasonings very well and marinate for 2 hours in the fridge, chicken marinating is very important because it makes the chicken tender and juicy and the chicken absorbs all Seasoning.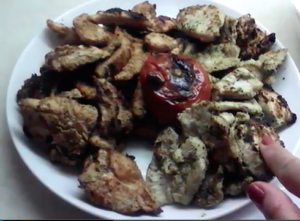 Print Recipe
Turkish Chicken Kebab Recipe
Quick and Easy BBQ & Grilling Turkish Chicken Kebab Recipe
Today I make 4 Grilled Chicken Recipe Everyone needs a great grilled chicken recipe in their repertoire A recipe that's easy to prepare and makes flavorful juicy chicken breasts every time
If you had a problem with tough dried-out chicken in the past I m here to help with tips for making the best moist grilled chicken.
Ingredients
1 1/2

KG

Chicken Boneless Cut into Cubes

1

Onion Cut into Big Chunk

1

cup

Yogurt

5

Fresh Green Chili Paste

1

tbsp

Vinegar

1

tbsp

Chili Powder

1

tsp

Gram Masala

1 1/2

tsp

Black Pepper Powder

1

tsp

Coriander Powder

1

tsp

Cumin Powder

Salt To To Taste
Instructions
In a large bowl add

chicken pieces

, Onion Chunks, green chili paste,all spices powder, yogurt, vinegar, and salt, mix very well.Marination time is 2 to 3 hours.After marination, I am using

BBQ with Charcoal and cook chicken

untiltender.

Ready-to-eat juicy soft chicken Turkish kabab, serve with green sauce.Paratha, tandoori naan, 
Summary
Reviewer
Review Date
Reviewed Item
Author Rating
Recipe Name