LAUKI GOSHT RECIPE is a tasty dish It is a common recipe in Pakistan It is prepared with fresh bottled gourd & mutton and cooked If you can use chicken instead of mutton but remember chicken cooking is timeless then mutton served with rice
My mum recipe to make simple ingredients tasty
LAUKI GOSHT RECIPE
750 g Lamb With Bones Cube
1 Large Onion
2 Tomatoes
1 Large Bottle Gourd Cut into Cubes
1 tbsp Ginger Garlic Paste
1 tbsp Red Chili Powder
1 tsp Turmeric powder
1 tbsp Coriander Powder
1 tbsp Cumin Powder
1/2 Cup Oil
Salt to Taste
In a presser, cooker adds oil, then add sliced onion lightly golden, add ginger garlic paste saute 3 min then add meat, tomatoes, and all spices powder, salt mix well. Then add 1 cup of hot water and cook for 10 min.
After 10 min meat is 1/3 done not fully done, add Bottle Gourd Vegetable mix and again add 1 cup hot water and cook 10 min.
Ready to eat serve with chapati, rice, salad.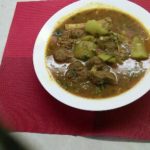 Print Recipe
LAUKI GOSHT RECIPE
LAUKI GOSHT RECIPE is a tasty dish. It is a common recipe in Pakistan. It is prepared with fresh bottle gourd & mutton and cooked. If you can using chicken instead of mutton but remember chicken cooking timeless then mutton. served with rice. 
Ingredients
750

g

Lamb With Bones Cube

1

Large Onion

2

Tomatoes

1

Large Bottle Gourd Cut into Cubes

1

tbsp

Ginger Garlic Paste

1

tbsp

Red Chili Powder

1

tsp

Turmeric powder

1

tbsp

Coriander Powder

1

tbsp

Cumin Powder

1/2

Cup

Oil

Salt to Taste
Instructions
First, In a pressure cooker add oil, then add onion slice fry light colorthen add ginger garlic paste saute 2 min then add meat and all spices 

powder mix well again saute 3 to 4 min, then add 2 cups hot water andcook until meat is 3/4 done not fully done, then add Bottle Gourd and add 1 cup hot water, cook 10 min until Bottle Gourd tender, soft

In the end add fresh coriander leaves.Serve with rice, naan, chapati.
More Related Post
Summary
Recipe Name
Benazir's kitchen
Published On
Preparation Time
Cook Time
Total Time