Lebanese Kofta In Tomato Sauce Recipe is my favorite recipe Lebanese Kofta is very popular in Lebanese and other regions Palestinian Kofta recipe and Kofta Arabic almost the same recipe
Lebanese Kofta Recipe
There is so many version in this recipe somebody does not add potatoes and someone adds. Kafta and Potatoes with Tahini Sauce is Palestinian style recipe
Some More Related Recipes Link Below
1 kg Lamb Minced
1 Cup Fresh Coriander Chopped
1 tbsp Ginger Paste
4-5 Green Chili Finely Chopped
1 tbsp All Spice Powder ( Garam Masala Powder )
1 1/2 tsp Black Pepper Powder
1 tbsp Red Chili Powder
1 Cup Fried Onion
3-4 Medium Size Tomato Cut Into Chopped
2 tbsp Thick Yogurt
1/2 Cup Oil
Salt To Taste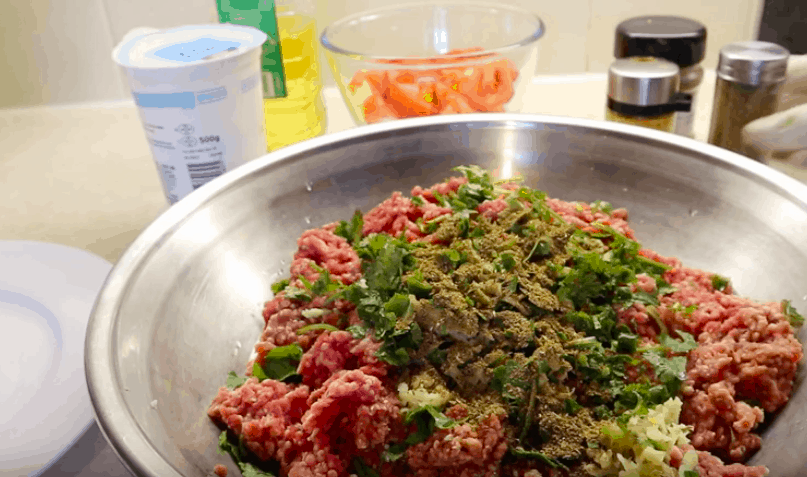 first, make Kofta Kebabs Mixture in minced meat, onions, parsley, and spices. you can make kofta a different way but my recipe Kofta is made my mother style.
Kofta base is minced meat, chopped onions, parsley, and spices. you can make many different ways. I make my mother-style patties in fry in a frying pan cooked with green peppers and tomatoes.
Kofta In Tomato Sauce Recipe
In an original recipe, Lebanese Kofta is you evenly spread your kafta in a baking dish. cover with potatoes, green peppers, tomato sauce.
TOMATOES SAUCE RECIPE
The same pan adds tomatoes and cooks 4-5 min until tomatoes are soft mashy.
Then add 1 tsp All – Spice powder, 1 tsp black pepper powder, add 2 tbsp yogurt, fried onion, salt to taste. mix and cook 6 min. Now add shallow fry kafta in tomato sauce. Simmer 5 min.
Simple tasty family recipe. serve with it Lebanese plain rice or bread.
Some Recipe Related Tips
If you want soft juicy kofta, you choose good quality mince 80% meat mince and add 20% fat. Make juicy soft Kofta.
Make sure tomatoes fully cooked and mashy in the sauce.
Summary
Recipe Name
Lebanese Kofta In Tomato Sauce Recipe
Benazir's kitchen
Published On
Preparation Time
Cook Time
Total Time